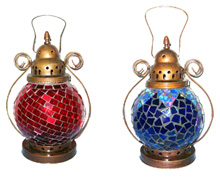 Enlighten a warm welcome with an implicit radiance!
A lantern is used for disseminating light in an interior when the power is off or used during festivals as a symbol of happiness especially during diwali in the indian festive seasons. Lanterns are used as decorative items. A lantern is made of metal or stone body and also of glass and paper which are transparent objects where in the light is emitted. The stunning and dazzling decorative lanterns are available with elegant shapes, styles and designs. Thus this magnificent and antique lantern is used for gifting purpose on special occasions like weddings, anniversaries and is customized with labeling and is gifted in corporate locale.
Beautifully crafted lantern has a distinct presence and a touch of dignity to every interior. These special lanterns are provided with a fancy candle votive inside to place either a diya or candle in it. These lanterns are useful to light up the festive décor with skillfully crafted glass lantern accented with artistic white metal top and base along with the fine handle which is provided with votive inside to place diya or candle in it. Decorative lanterns are highly attractive and are available in beautiful colors and these colors complement the color scheme of the buyers. These decorative lanterns have different designs and multi level carving frosting on glass this is the most commonly used material for making lanterns. The exclusive lanterns which have elegant look and highlights the beauty of home décor are made of varieties of: iron, brass, copper etc.
The traditional and decorative lanterns thus create a different picture as these lanterns exist in a wide range of designs. Some of these are seen hanging from buildings, while others are placed on or just above the ground. Paper lanterns occur in societies around the world and come in various shapes and sizes, and as well as have various methods of construction. In their simplest form, they are simply a paper bag with a candle placed inside, although more complicated lanterns consist of a collapsible bamboo or metal frame of hoops are covered with tough paper. Modern varieties often place an electric light in a decorative glass case which highlights its shiny and glazy look which attracts most of the people.
Featured products of Lanterns
A lantern is a portable lighting device used to illuminate broad areas. Lanterns may also be used for signaling, to guide your path somewhere or as general light sources for camping. In the older days it would have been used like a torch. Dim varieti ...

Company Name : WILMAR CREATIONS Click here to view entire product range
Products :

Paper Albums, Paper Bags, Paper Photo Frames, Paper Greeting Cards, Paper Gift Boxes, Decorative Lanterns And Various Others.

Contact Person :
Mr. Shailendra Modi
Company Profile :

Akshar Handicrafts A Partnership Firm Established In The Year 2010 Deals With The Manufacture, Wholesale And Export Of A Number Of Paper Products Such As Decorative Paper Products And Stationary Items. Our Offerings Include

Send :
On-Line Trade Inquiry
Click here to view entire Product Range
Products :

Photo Frames, Notebooks & Journals, Gift Packging, Designer Lanterns Etc.

Contact Person :
Mr. Umesh Batra
Company Profile :

Established In The Year 2006, We, Sai Saburi International, Are One Of The Leading Names Engaged In Manufacturing A Wide Assortment Of Products That Are Widely Demanded In Both National And International Markets. These Products Are Widely Acknowledged For The Trendy And Modern Appearance They Posses. The List Of Home Decor Products Offered By Us Enhances The Beauty Of Ones Dream House. Catering To The Needs Of Various Households, Hotels, Motels And Corporate Houses, These Tiny But Beautiful Products Are Widely Demanded Across The Nation.

Send :
On-Line Trade Inquiry
Products :

Lanterns, Lamps, Watches & Clocks, Bath Set, Jewelery Boxes

Contact Person :
Mr Gaurav Singh
Company Profile :

Manufacturing Export & High Quality Wedding Gifts

Send :
On-Line Trade Inquiry
Products :

Paper Bags, Jewellery Boxes, Lanterns, Wedding Cards, Gift Boxes, Chocolate And Dry Fruits Boxes, Photo Albums And Frames

Contact Person :
Mr. Vivek Shah
Company Profile :

We "ethnic Paper House," Are Leading Manufacturers, Exporters & Suppliers Of Natural, Designer, Decorative And Embossed Paper And Paper Products. Available In A Wide Range Of Finishes, The Products Offered By Us Are Categorized Under Heads Like Designer Paper Sheets, Natural Paper Sheets & Designer Paper Products.

Send :
On-Line Trade Inquiry
Click here to view entire Product Range