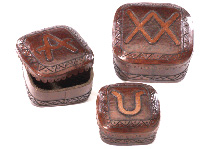 Leather boxes are considered as a treasure of love and have a stylish way to look at storage. These leather boxes are high in richness and are durable to the contemporary designs and flawless finish of these leather boxes. These leather boxes have unparalleled charm. These leather tissue boxes have an exotic blend of style and elegance. These leather boxes can be used on many special occasions thus to give an exquisite personalized touch to it which are engraved with the persons initials or name. Leather boxes are quite popular today and are available in various sizes ranging from small leather boxes to large leather storage boxes. These boxes can be simple ones as well as decorated ones too. Leather boxes are ideal gift ideas too and can be used as a gifting tool. These leather boxes can be gifted to friends, relatives or loved ones on special occasions.
Leather jewelry boxes are mostly used by ladies to store their jewelry and other trinkets which is a very much safe place to keep all the expensive belongings rather than leaving it in open. These leather jewelry boxes are carefully designed and the layout is reflected while making them. Some special leather boxes contain multiple compartments and levels designed to keep important stuff as per the preference or according to the person's choice and each compartments or level is designed and accompanied by rolls or hooks to store varieties of jewelry items like earrings, finger rings, necklaces, brooches, pendants etc. Some of the compartments could be removable too, in case if the person wants to have large space to keep the ornaments according to its size.
Leather jewelry boxes or storage boxes are available in various designs such as cube leather boxes, heart shaped, and chest shaped or case shaped too which can be useful at various events or occasions. These leather boxes are available in colors such as black, brown, pink, red and even green depending upon the occasion. These leather boxes are high in durability and have utility value, leather boxes are most opted for personal use as it is long lasting and can be stored for years and now.
Products :

Key Chain, Bags, Table Clocks, Leather Boxes,pen And Pencil Stand Etc.

Contact Person :
Boby Chawla
Company Profile :

Ajuni Products Inc. Is The Manufacturers, Supliers, Exporters & Wholesaler Of Corporate Gift & Novelties And Decorative Items Such As

Send :
On-Line Trade Inquiry
Click here to view entire Product Range
Products :

Pen Storage Boxes,velvet Boxes, Leatherette Boxes, Gift Sets, Plastic Boxes

Contact Person :
S.a.rehman
Company Profile :

Plasmac Industries Is The Manufacturers, Supliers, Exporters & Wholesaler Of Corporate Gift & Novelties Items Such As

Send :
On-Line Trade Inquiry
Products :

Promotional Items, Gift Items, Card Holders, Pen Stands, Steel Gift Items, Key Chains, Promotional Carry Bags, Handbags, Corporate Leather Handbags, Umbrella, Caps, Corporate Watches, Table Clocks, Handicrafts Gift Items, Photo Frames, Pen, Note Pads, Antique Gift Boxes, Paper Holders, Cd Racks,

Contact Person :
Mr. Paritosh
Company Profile :

Promoting The Business Of Customers Through Plethora Of Creative Works, We, Bhoumik Ventures Pvt. Ltd., Take Prides In Being One Of The Trustworthy Advertising And Promotional Activity Firm. Established In The Year 2000, We Are Renowned In The Field Of Branding, Its Positioning And Retaining. We Are Also Recognized As A Prominent Manufacturer And Exporter Catering To The Needs Of Electronic, Print And Outdoor Media With World Class Range Of Products Like Glowsing/rolating Glowsign, Logo/trademark Design, Scrollers, Apparel, Caps & Hats, Drinkware, Etc. All Our Promotional Items Are An Immense Help In Promoting One`s Company Goals As They Are Highly Cost Effective. Each Of Our Product Is Known For Its Durable Service,

Email is not available
Click here to view entire Product Range
Products :

Block Printed Cotton Paper, Metallic Leather Paper, Block Printed Silk Paper, Block Printed Mulberry Paper, Diaries, Photo Frames, Lampshades, Paper Bags, Boxes, Cotton Paper, Silk Paper And Leather Paper.

Contact Person :
Mr. Rajiv Sharma
Company Profile :

Presenting A Wide Collection Of Handmade Papers, We Are An Eminent Manufacturer And Exporter Catering To A Wide Base Of Clients Across The Globe. Specializing In Handmade Paper, We Also Manufacture Different Kinds Of Attractive Decorative Items, Stationary Products And Other Products. Available In Mesmerizing Colors And Unique Designs, Our Products Have Been Widely Appreciated By Our Clients Across The Globe. Our Full Range Includes

Send :
On-Line Trade Inquiry
Products :

New Arrivals,paper Greeting Cards,paper/gift Boxes,star Shades,paper Stationery,leather Journals,handmade Papers,paper Journals,picture Frames,paper Bags,paper Albums,desktop Accessories,handmade Paper Craft.

Contact Person :
Mr. Arun Goyal / Mr. Rahul
Company Profile :

Manufacture, Export And Supply A Quality Range Of Handmade Papers For Various Industrial Applications. Silk Paper, Cotton Paper, Embroidery Paper, Dew Drop Paper

Send :
On-Line Trade Inquiry
Products :

Caps,carry Bags, Coasters, Diaries,dust Covers,gift Boxes,jute Bags, Key Rings, Leather Wallets, Leather Bags, Mouse Pads, Mugs, Note Books, Pens,promotional Gifts,t-shirts,table Mats,umbrellas, Wine Bags, Wooden Items.

Contact Person :
Mr. Anil Kumar Gupta
Company Profile :

Manufacturer And Exporter Of Custom Made Promotional Gifts Like Mousepads, Coasters, T-shirts, Caps, Mugs, Diaries, Leather Bags And Wallets, Pens, Umbrellas, Carry Bags, Jute Bags, Wine Bags, Clocks, Key Chains, Gift Boxes And Wooden Items Etc.

Email is not available
Products :

Bond Papers, Silk Papers, Mottled Papers, Batik Papers, Leatherette Papers, Banana Papers, Printed Papers, Colour Cards, Mottled Cards, File Covers, File Boards, Note Books, Letter Sets, Photo Albums, Giftboxes, Folders, Visiting & Greeting Cards

Contact Person :
B. V. Rao
Company Profile :

Suppliers Of Stationery Products.

Send :
On-Line Trade Inquiry
Products :

Paper Bags, Paper Boxes, Notebooks, Wrapping Sheets, Photo Frames, Leather Lamps, Printed Paper Bags, Printed Paper Boxes,

Contact Person :
Mr. Nikhil Khandelwal / Mr. Anuj Nagewala
Company Profile :

Printing Being Integral Part Of Our Papers & Paper Products, We Have A Long Term Contract With One Reputed Printing House, Based Near Our Production Unit. Here, We Enjoy Efficient, Personalized Graphic Designing, Large Production Capacities, High Quality Control, Sensitivity Towards Time Lines And All At Very Attractive Prices That In Turn Enable Us To Offer Quality Paper Products At Reasonable Prices.

Send :
On-Line Trade Inquiry