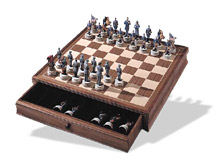 A gaming gift and a royal pat.
chess game a famous board game mostly played by small children for their enjoyment. A chess set lends a regal appearance to any interior décor for homes or in office. Crafts in india play very crucial role offering wide array of chess sets coming with numerous finishes, sizes and shapes. The peculiar one in the wooden chess set a unique one combining a class and convenience for kids and people. Wooden chess set contain pieces of rich tone which are enhanced with glossy look to ensure appealing shine. These wooden chess sets are portable and are easy to carry. These sets are foldable and would occupy less space. The wooden chess sets are crafted out from high quality wood which attracts most of people because of its polish which gives away the shiny and sort of glaze to the set.
There are several varieties of chess sets available out of which the one is silver chess sets having authentic, sterling silver and other raw materials which exhibit the unsurpassed quality. Marble handicraft chess set make unique and attractive gifting tool for various occasions. These marble chess sets are very delicate and beautiful. These sets also differ for color shades, size and shape. Glass chess sets come with mirror finish and look stunning. The glass used to build these sets varies accordingly. Some of these are made up of fragile, hollow blown glass and the other ones are constructed from durable solid glass. The frosted type of glass would suit better as it comes in variety of colors and proves to be excellent in decoration thus experimenting with unique and new color.
The magnetic chess sets are the most popular ones as they are used for gifting and traveling purpose. The best quality of grain wood is used for this chess set as they look very attractive and come in variety of types which are rosewood, ebony, sandalwood and maple.