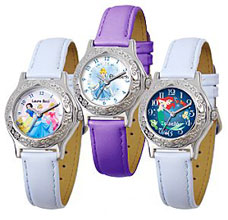 Most lovable thing for every child is lighting shoes or watch which emits light when they show it to others. Kids are always fascinated with such items which make them happy and brings smile on their face. Tiny bands and handles are also designed keeping in mind the size of child's wrist. Usually cartoon character is designed on the upper cover of the watch which makes kids attract and make their parents to buy unique item. Watches designed for children are of plastic as because it does not harm them and also whenever it is lost it can be brought another one. Varieties of colors, design patter, sizes and shapes are available for kid's watches. There are varieties of kid's watches and the one is aqua watch which is water proof and unbreakable. Bangle watch is used by girls as this watch can be worn on hand like bangle which every girl would like to wear.
The concept of watch has been introduced to kid's because to teach them the importance and effectiveness of time. It also helps in managing sections of time. The most common use of watch is done during exams where children appear for their exam and always have a look at the watch to complete the paper on time. Also in schools whenever competitions happen or take place the moment any race starts time factor is considered and then only the winner is announced. During competitions the use of stop watch is made efficiently and effectively.
Today even youngsters use watches to keep a track as there is deadline to submit projects and also deadline of time to attend the lecture. Today youngsters follow trends and fashion statements and use branded watches like fast track which has a classy look and shine which throws a light on the design which is very much beautiful. These watches also can be gifted on occasion like birthdays, parties which would make children happy.