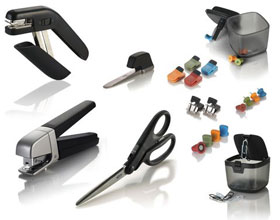 Office supplies is the generic term that refers to all supplies regularly used in offices by businesses like printing papers, laptops and printers. Other organizations, from private citizens to governments, who work with the collection, refinement, and output of information is very much necessity for office culture. An arranged office table having laptop or desktop computer thus takes us to a complete new sector. Some of the necessities of office or corporate sector are diaries, folders, pens-markers in pen stand, some blank white papers beneath the weight holder, on wall a planner and a calendar and whole these materials are known as office stationery that you can easily watch at any office which have thus now emerging out and innovations have started happening. As because time has moved on with the new and advanced technologies that have surely enhanced the working process of offices, like computers and laptops are the most noticeable object than that of other items which has replaced the paper work, but still these office stationery have their own values and importance, they are still used in the offices to glorify it and make use of it efficiently.
Reliable office products help to manage, organize and carry out your work with ease, and in a comfortable way therefore choosing the right product is very much imperative. Common office products include binding machines, laminators, literature organizers, overhead projectors, printers, scanners, shredders, typewriters, vacuums, workstations, office carts, and label makers which are used today for over ample amount of now and people have become dependant on technological aspects computers and laptops today especially.
These are commercial office products, and not every small business requires all of these and identifying the required products doesn't take long. Many businesses in the office supply industry have recently expanded and now are known as related markets. These business organizations also have copy centers, which facilitate the creation and printing of business. Also collateral such as business cards and stationery, plus printing and binding of high quality, high volume business and engineering documents all these things have emerged out of it.
Featured products of Office Products
A file folder is a kind of folder that holds loose papers together for organization and protection. File folders usually consist of a sheet of heavy paper stock or other thin, but stiff, material which is folded in half, and are used to keep paper d ...

Company Name : A. J. STATIONERY PVT. LTD. Click here to view entire product range
The compact disc, or cd, began its rise to popularity in the early 1980s and has since become the most popular medium for commercial audio recordings. In addition to being used for music, the compact disc eventually evolved so that it had the ability ...

Company Name : MAVERICK INC.
Professional life seems complicated without this everyday gadget. Calculators differ in design, color, style, and functionality. Digital calculators, pocket calculators, solar calculators, electric calculators, battery operated calculator, scientific ...

Company Name : BIG IMPORTS AND GIFTS Click here to view entire product range
A peripheral is a device attached to a host computer behind the chipset whose primary functionality is dependent upon the host, and can therefore be considered as expanding the hosts capabilities, while not forming part of the system`s core architect ...

Company Name : BIG IMPORTS AND GIFTS Click here to view entire product range
Dream jet printer also offers great printing jobs directly on any material such as wood, stone, crystal, metal plates, tiles, steel plates, copper plates, leather articles, aluminium, flowers, artificial flowers, osmosis material and non-osmosis mat ...

Company Name : MEHTA CAD CAM SYSTEM PVT. LTD.
Products :

Office And School Stationery Products Like Metal File Clips, Cd Case, Name Card Holders, Expanding Files, Carrying Cases, Portfolio Bags, Hotel Menu Folders, Visiting Card Albums, P.p. Files & Folders, Display Books, Photo Albums, Strip Files, Conference Folders, Kids Loved Files, Name Card Holders, Name Plates And Display Stands.

Contact Person :
Mr. Dhirendra
Company Profile :

A Company Manufacturing And Supplying A Variety Of Office And School Stationery Products Like Metal File Clips, Cd Case, Name Card Holders, Expanding Files, Carrying Cases, Portfolio Bags, Hotel Menu Folders, Visiting Card Albums, P.p. Files & Folders, Display Books, Photo Albums, Strip Files, Conference Folders, Kids Loved Files, Name Card Holders, Name Plates And Display Stands.

Send :
On-Line Trade Inquiry
Click here to view entire Product Range
Products :

Photo Frames, Household Products, Cutlery, Flasks, Thermoware, Crockery, Desktop Accessory, Clocks, Watches, Bags, Office Bags, Conference Bags, Portfolio Bags, Glassware

Company Profile :

Shiv Enterprises, Is A Renowned Supplier Of A Variety Of Promotional Gifts Like Photo Frames, Household Products, Cutlery, Flasks Ashtrays, Thermoware, Crockery, Desktop Accessories, Clock, Watches, Bags, Office Bags, Conference Bags, Portfolio Bags.

Send :
On-Line Trade Inquiry
Click here to view entire Product Range
Products :

Exclusive Office & School Stationery Like Files, Folders And Many More Products.

Contact Person :
Mr. Parekh
Company Profile :

Parth Enterprises Supplies The World Class Stationery Products Made From The Best Raw Materials And Are Designed To Suit Every One, Companies, Individuals And Students.

Send :
On-Line Trade Inquiry
Click here to view entire Product Range
Products :

Files, Folders, Office And Stationery Products

Contact Person :
Mr. Vimal Mishra
Company Profile :

We Offer A Wide Range Of Office And School Stationery Products That Is Manufactured As Per The Industry Standards. Sourced From Leading Vendors, Our Range Is Appreciated For Its Efficient Functionality, Durability, Unique Styles & Designs And Precise Dimension. Available In Various Colors And Designs, These Items Are Offered At Market Leading Prices.

Email is not available
Products :

It, Web Infrastructure Services, Office Automation Products, Computer Periperals

Contact Person :
Mr. Vikrant Agrawal
Company Profile :

Established In The Year 2008, We "bhagwati Techno Group" Are One Of The Recognized Organizations Engaged In Manufacturing And Wholesaling A Broad Range Of Office Automation, Home Automation & Security Automation Products And Services. All These Instruments Are Manufactured Using Superior Quality Raw Material That Is Procured From The Reliable Vendors Of The Market. Designed In Compliance With The International Standards Of Quality, These Can Easily Withstand Extreme Working Conditions; Hence, Are Extensively Used In Mncs, Corporate, Institutions And Homes.

Send :
On-Line Trade Inquiry
Click here to view entire Product Range
Products :

Pins , Paper Shredder , Home Products , Office Products

Contact Person :
Yusuf Dalal / Jatin Mehta
Company Profile :

Deli Penrex Stationery Pvt Ltd Is The Manufacturers, Supliers, Exporters & Wholesaler Of Stationery Items

Send :
On-Line Trade Inquiry
Products :

Fibre Yarn, Fine Paper Products, Lab Testing Equipments, Office Stationery, Corrugated Packaging Materials, Garments Accessories, Etc.

Contact Person :
Mr. Sumit Daga
Company Profile :

Sumit Sales Company Is A Delhi Based Trusted Firm That Is Engaged In The Supplying Of Various Products. The Variety Of Products That We Provide Is

Send :
On-Line Trade Inquiry
Products :

Promotional Umbrellas,promotional Ties Promotional Caps,promotional T- Shirts Promotional Leather Bags,promotional Household Items,promotional Watches,promotional Office Stationery,promotional Diaries,promotional It Products,corporate Gifts,desk Top,products,

Contact Person :
Mr. S.c. Goyal
Company Profile :

Manufacturer And Exporter Of Promotional And Corporate Gifts

Send :
On-Line Trade Inquiry
Products :

Stationery Products Like Office Files, Box Files, Cabinet Files, Faph Files, Folders And All Kinds Of Other Types Of Files.

Contact Person :
Mr. Kailash Purohit
Company Profile :

A Company Manufacturing Different Types Of Files And Folders For Various Stationery Purposes.

Send :
On-Line Trade Inquiry
Products :

Stationery Items, Housekeeping Products, Tapes, Plastic Crates, Industrial And Food Grade Salts And Packing Materials.files And Folders, Stapler Pins, Ball Pens , Office Products, Packing Products,

Contact Person :
Mr. Punit Garg
Company Profile :

Established In The Year 2008, At Baddi, (himachal Pradesh, India), We, "m/s Bharat Stationary Mart," Are A Reputed Trader And Supplier Of A Wide Range Of Products. Our Range Includes Superior Quality

Send :
On-Line Trade Inquiry
Click here to view entire Product Range