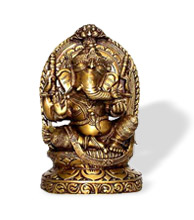 A positive energy revolving around the earth, a cosmic ray where there is hope, light, purity, destiny, divinity which represents god is an idol. An idol is an image or other material object representing a deity to which religious worship is addressed or any person or thing regarded with blind admiration, adoration, or devotion. Idols create a religious sentiment, which is either depicted by animals, human figures, gods, and goddess. Idols are worshipped, beloved, esteemed, spiritual, sacred, and righteous. Idols are viewed as a best option for giving requirements especially on periods. The beauty of offices or of homes could be more nourished as keeping of idols is intended to be a good start in terms of blessings from the god. Idols are regarded as an ultimate choice for gifting purposes especially on occasions. An idol is a representation of divinity, made usually of stone, wood, or metal which serves as a means through which a divinity may be worshiped. An idol is means of communication with the god. Idol represents purity, divinity, dedication, devotion, love, knowledge, meditation, tolerance, sacrifice, and most important is the worship. Idols rule as long as there is pride, greed, insecurity, and unhappiness. In positive aspect, it wipes out all negative energy from the soul at the time of worship..
There is a wide variety of idols which includes stone idols, wood idols, ashtadhatu idols, diamond idols, and brass idols etc., a wide variety of stone is used for making god and goddesses. Stone idols are worshipped in homes or at the temples to improve the aura and to invoke the supernatural blessings. Stone idols are washed with 'ganga jal' to symbolize the sign of purity and then 'abhishek' is performed which transforms the piece of stone into god. The following are the statuettes made up of stone idols; it represents lord shiva, lord vishnu, lord ganesha, and lord krishna. The wooden idols are extensively used for crafting beautiful idols of gods and goddesses. Wooden idols are very rarely used at temples, but are used as a decorative piece at homes and offices. They are ideal for gift items. The wooden idols are further classified in two types they are sandalwood and rosewood. Sandalwood is used for sacred idols and for prayer beads whereas rosewood reflects the elegance, beauty, and uniqueness in craftsmanship. It adds a spiritual value to the idols. Ashtadhatu idols is very sacred and made up of pure alloy of eight metals namely gold, silver, copper, zinc , lead, tin, mercury. It has a very high value in hinduism. Ashtadhatu idols are durable and last for years without decaying. Brass idol is an alloy made of copper and zinc and is extensively used for crafting hindu god and goddesses. Brass idols has an excellent look and make "brass" a unique material for making idols. They are often given a polish and are developed to prevent them from blackening in color. Diamond idols are made up of lots of diamonds and other metals.
Idol signifies worship. During the time of festivals like ganesh chaturthi, navratri, dasara etc., idols play a very important role in different religion, castes, customs and traditions. On rare occasions, idols themselves become historic and inspire their own historic events. An idol is a representation of history. Idols have represented different stories in the past. Stories about ramayana, mahabharata, krishna kanhaiya etc., are still fresh in our minds. An idol is a physical object of the god. The word idol derives from the greek word "eidololatria" means a figure or image for worship. As an idol represents different religion as well, in hinduism it is worshipped as "khuda" or "bhagwan". In muslim community it is worshipped as "allah" whereas in christianity it is worshipped as "amen" for the son of christ.
"charvak" an ancient indian philosopher quotes, "life is a journey of worship". To worship an idol is to remove all the negative energy from the earth, body, and soul. an idol remains an inspiration for all of us.
Featured products of Idols
Diamond crystal presents it`s divine range of crystal idols from lord ganesha to others in various sizes and postures. These divine beauties are ideal desktop items in offices and home and are unique in their own way, which are bound to attract atten ...

Company Name : DIAMOND CRYSTAL PVT. LTD. Click here to view entire product range
We offer our range of fibre idols that comes with excellent facial expressions and finishing. Our range of fibre idols is wide in demand with our clients for their excellent finish and competitive pricing.We provide these fiber idols in various sizes ...

Company Name : UTKAL ART Click here to view entire product range
We offer our range of fibre idols that comes with excellent facial expressions and finishing. Our range of fibre idols is wide in demand with our clients for their excellent finish and competitive pricing.We provide these fiber idols in various sizes ...

Company Name : UTKAL ART Click here to view entire product range
We offer our range of fibre idols that comes with excellent facial expressions and finishing. Our range of fibre idols is wide in demand with our clients for their excellent finish and competitive pricing.We provide these fiber idols in various sizes ...

Company Name : UTKAL ART Click here to view entire product range
We offer our range of fibre idols that comes with excellent facial expressions and finishing. Our range of fibre idols is wide in demand with our clients for their excellent finish and competitive pricing.We provide these fiber idols in various sizes ...

Company Name : UTKAL ART Click here to view entire product range
Products :

Trophies & Awards , Mementos, Plaques, Salvards, Cups, Crystal / Glass And Granite Premiums, Wooden Items, Fibre Glass Items, Acrylic Products, Laser Engravings, Liquor / Pharmaceutical Giveaways, Promotional & Merchandising Items, 3 Dimensional Logos & Miniatures, Desktop Clocks, Personal Accessories, Ganeshas & Other Idols, Fengshui Items, Candle Stands & Wrought Iron Items, Handicrafts & And Digital Printing On Any Substance.

Contact Person :
Mr. Prashant V. Kalbag
Company Profile :

Creative Awards & Rewards Is The Manufacturers, Supliers, Exporters & Wholesaler Of Corporate Gift & Novelties

Send :
On-Line Trade Inquiry
Click here to view entire Product Range
Products :

Antique Reproduction, Boxes-decorative & Jewellery, Decorative Objects, Wooden Masks, Idols, Birds, Master Pieces, Animals, Figurines, Wall Panels, Woodcrafts, Bed Side Tables, Chairs, Dining Tables, Occasional Tables, Armoires, Beds, Console Tables, Divans And Many More Accessories.

Contact Person :
Thiagarajan
Company Profile :

Manufacturers & Exporters Of Wood Based Handicrafts Like Antique Reproduction, Boxes-decorative & Jewellery, Decorative Objects, Wooden Masks, Idols, Birds, Master Pieces, Animals, Figurines, Wall Panels, Woodcrafts, Bed Side Tables, Chairs, Dining Tables, Occasional Tables, Armoires, Beds, Console Tables

Send :
On-Line Trade Inquiry
Click here to view entire Product Range
Products :

Gift Items, Decorative Clock,lamp & Lantern, Leather Items, Kitchenware,pen Stands, Wall Hangers,god Idols, Wall Paintings, Jewellery, Diyas Etc.

Contact Person :
Ms Nidhi Kapoor
Company Profile :

Leading Mfrs, Wholesalers, Retailers Of Corporate Gift Items. Distributors For International Brands Like Victorinox (swiss Knives & Watches), Maglite(u.s.) Torches And Design Go(u.k.) Travel Accessories.

Send :
On-Line Trade Inquiry
Click here to view entire Product Range
Products :

Time Pieces, Vases, Photoframes, Idols

Company Profile :

Frazer & Haws Is Specialised In Corporate Gifts

Send :
On-Line Trade Inquiry
Products :

Marble Idols And Statues (god Statues, Religious Statues, Figures And Plaques).

Contact Person :
Mr. Abhishek Dixit / Mr. Ashvi
Company Profile :

Manufacturer And Exporter Of Arts And Crafts

Send :
On-Line Trade Inquiry
Products :

Idols, Table Clock, Desk Top Accessories

Contact Person :
K.b.b.ganesh / K.b.jalnawalla
Company Profile :

Pure Crystal Has Inflamed Mystical Passion In Men Of Class For Centuries. The Brilliance, The Sparkle And The Style Of 30% Lead Mouth Blown Handcrafted Crystal Is Truly Exquisite Expression Of Aristocracy.

Send :
On-Line Trade Inquiry
Products :

Idols, Frames , Trophies , Momentos Etc.

Contact Person :
Bharat Kothari
Company Profile :

Laxmi Manufacture Is The Manufacturers, Supliers, Exporters & Wholesaler Of Corporate Gift & Novelties Items

Send :
On-Line Trade Inquiry
Products :

Ash Tray, Cigarette Case, Calculator, Card Holder, Clocks, Crystals, Desk Top, Stationery Holder, Gift Sets, Gift Vouchers, God Figurines & Idols, House Ware, Jewellery Box, Kesar Foils, Key Holder, Marble, Mobile Holder, Accessories, Mouse, Mouse Pads, Multi- Use, Pens & Pencils, Pharma Gifts, Photo Frame, Telephone, Trophie, Award, Plaque, Sheild, Cup, Medals, Wall Hanging, Wrist Watches

Contact Person :
Ajit Thakur
Company Profile :

Kesar Gift Mart Is The Manufacturers, Supliers, Exporters & Wholesaler Of Corporate Gift & Novelties Items

Send :
On-Line Trade Inquiry
Products :

Idols, Statues, Wall Frames, Files, Folders, Mobile Cover, Bells, Decoratice Diyas, Torans

Contact Person :
Mr. Milan Trivedi
Company Profile :

Established In The Year 1997, We Tanariri Hastkala Are Serving As The Prominent Supplier Of The Beaded And Handicraft Items. Owing To Their Features Such As Long Service Life, Crack Resistance, Perfect Finish And Smooth Polish, These Items Cater To The Requirements Of Homes, Restaurants And Exhibitions.

Send :
On-Line Trade Inquiry