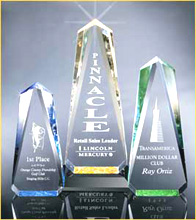 Milestones
Awards and trophies as the term describes is to congratulate or to acknowledge significant achievements or feats. Today symbolic gestures have become a common thread throughout the human history and trophies have become vital part all over the world. Corporate awards have only sprung up in recent times but trophies continue to play their part in the recognition of human achievement. Receiving of an award for the people today makes feel that apart from this award there is something to move beyond. Today wooden awards and trophies have taken over a charge in recent years in the form of contemporary types like glass and crystal awards as they look elegant and have stylish way in their design. Awards are often signified by trophies, certificates, titles, medals or badges.
Trophies can be found in variety of styles and shapes these days. Trophies are reward for an achievement specifically after it serves as proof of merit. The custom trophies are presented to sports player, students, contestants and anybody who deserves to be awarded. Corporate crystal and acrylic awards are carved with company's name and logo in a very possible and best manner to reward and recognize people. Awards do make an excellent corporate gift. The silverware awards are made using traditional methods and is silver plated. Every trophy has a rich coating of silver. Awards and trophies are gives as a token of appreciation. It is regarded as the moment of recognition, hard work and dedication. Corporate awards and trophies act a fabulous tool for motivating their companies to excel. Thus 'trophy' is very much a broader term as now a days varieties are trophies are given in various fields of sports, films, arts and culture and literature.
Crystal awards are made up of optical crystal combination of elegance, beauty and hi tech laser imagery. Out of the following awards are the most popular ones these are mad out of glass and not from crystal.. Corporate awards are given for great triumphs and corporate etched crystal awards of the finest quality for great leaders. The symbolic gestures portray common thread throughout human history and trophies have become a vital part, not just in western culture but also around the world.
Featured products of Awards & Trophies
A souvenir for every accomplishment! momentos are meant for acclaiming individuals for their outstanding achievements. A medal, gift or an award, makes the recipient feel exuberant and proud ...

Company Name : SUNNY INTERNATIONAL
Products :

Trophies & Awards , Mementos, Plaques, Salvards, Cups, Crystal / Glass And Granite Premiums, Wooden Items, Fibre Glass Items, Acrylic Products, Laser Engravings, Liquor / Pharmaceutical Giveaways, Promotional & Merchandising Items, 3 Dimensional Logos & Miniatures, Desktop Clocks, Personal Accessories, Ganeshas & Other Idols, Fengshui Items, Candle Stands & Wrought Iron Items, Handicrafts & And Digital Printing On Any Substance.

Contact Person :
Mr. Prashant V. Kalbag
Company Profile :

Creative Awards & Rewards Is The Manufacturers, Supliers, Exporters & Wholesaler Of Corporate Gift & Novelties

Send :
On-Line Trade Inquiry
Click here to view entire Product Range
Products :

Wooden Desktop Items, Wooden Clocks, Branded Gift Items, Leather Bags, Trophies & Awards, Brass Gift Items,t Shirts, Conference Folders, Caps, Wall Clocks

Contact Person :
Mr Mahesh K Lohia
Company Profile :

Mfr & Supplier Of Promotional & Gift Items Such As

Send :
On-Line Trade Inquiry
Products :

Awards And Trophies, Keychain, Photoframe,

Contact Person :
Mr. Dilip Sardesai
Company Profile :

The Company Is Manufacturers And Suppliers Of Corporate And Promotional Gifts

Send :
On-Line Trade Inquiry
Products :

Trophies, Wooden Awards, Sports Trophies, Tea Set, Statues Etc.

Contact Person :
Mr. Vikas Sharma
Company Profile :

The Company Has The Capability To Manufacture All Types Of Custom Made Unique Designs In Silver, White Metal, Copper Brass, Aluminum, Wood And Acleric Articles To Suit All Occasions . Kanhaya Lal Sharma & Company Is A Leading Manufacture & Supplier Of Recognition Products For Team Sports, Organizations And Association Nationwide, Providing Custom And Stock Trophies, Acrylic And Resin Awards, Plaques, Medals, Team Apparel And Logo Merchandise.

Email is not available
Products :

Trophies, Awards, Wood Work, Acrylic, Leather, Bags, Desk Sets

Company Profile :

Manufacturer Of Corporate Gifts Such As Trophies, Awards, Leather Bags.

Send :
On-Line Trade Inquiry
Products :

Awards & Trophies, Rubber Stamps, Metal Plates, Corporate Gifts And Corporate Promotion Solutions.pre Ink Rubber Stamp Project, Liquid Photopolymer Rubber Stamp, Flash Foam, Pre Ink Stamp Holder, Flash Ink, Liquid Photo Polymer And Hand Mounts.

Contact Person :
Mr. Rishiraj Chatterjee
Company Profile :

Mohan Impressions Private Limited, Is Engaged In The Manufacturing, Exporting And Supplying Of

Send :
On-Line Trade Inquiry
Products :

Awards And Trophies, Momentos, Medals And Badges Etc

Company Profile :

Manufacturers, Wholesaler, Suppliers Of Corporate Gifts

Send :
On-Line Trade Inquiry
Products :

Promotional Flags, Rangoli Colors, Election Campaigning Items, Tattoo Stickers, Election Caps, Rangoli Stencils, Promotional Clothing, Decorative Rangoli Stickers, Election Batches, Awards Trophies, Election Cut Outs, Display Hoardings & Banners

Contact Person :
Mr. Rajesh/vishnu/lokes Agarwa
Company Profile :

We Are The Leading Manufacturer & Exporter Of Promotional Items, Which Are Widely Used For By Corporate Houses & Political Parties For Propagation & Campaigning.our Products Are Designed & Manufactured As Per Clients' Specification.

Send :
On-Line Trade Inquiry
Click here to view entire Product Range
Products :

3d Mementos, Mementos, Acrylic Awards, Premium Corporate Awards, Key Chains & Photo Frames, Exclusive Gifts Sets, Plastic Pens, Shields, Wooden Awards, Wooden Ball Pens, Decorating & Useful Items, Metal Pens, Trophies And Many Other Gift Items.

Contact Person :
Mr. Rajeev Behl
Company Profile :

Britex Novelties Private Limited Was Incorporated Way Back In 1967 As The Leading Manufacturer, Wholesaler, Exporter And Trader Of Corporate Gifts, Novelties, Trophies, Mementos And Various Other Products.

Send :
On-Line Trade Inquiry
Click here to view entire Product Range
Products :

T-shirts,shirts, Caps, Bags,wooden Prodcuts, Trophies & Awards, Mugs

Contact Person :
Manish Bansal
Company Profile :

Manufacturer And Supplier Of Promotional Products

Send :
On-Line Trade Inquiry