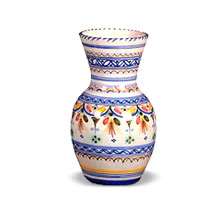 A floral extravaganza about you!
Flower vases are meant to enhance the beauty of any interior decor and thus give the priority to illustrate aesthetic choices. These flower vases portray the beautiful traditional indian motifs as well as modern design. Flower vases are chiseled out different varieties of materials used for vases and different shapes which are eye catching with their compelling beauty. Exquisite flower vases are made out of various materials like brass, glass, iron and ceramic. The flower vases are meticulously carved out which has gained popularity over years from now. Flower vases serve as decorative pieces which are used to display plant greenery and exotic fresh flowers with unique colors. These vases can be used as a promotional gifting tool and also for other purpose like weddings, anniversaries and corporate events. It is also used in the corporate sector.
These flower vases are ideally placed on dinning table, coffee table, writing tables etc. The exotic beauty of flowers gets multiplied by placing it in the decorative flower vase which gives an elegant appeal. Flower vases ornate the decorative flowers. These vases adorn the décor of the house with their glittering shine and stupendous style. The following are the types of flower vases available in the market which includes stainless steel flower vase which is durable and is rust free. These flower vases are available in various shapes, sizes, patterns and designs. Mosaic flower vases are designed with perfection considering the quality of glasses used in designing. These vases are extensively used for decoration and are offered to custom in size, finish, color, design and style as per the requirement of the person. The flawless design and the quality of the raw material used thus attracts the people which then would opt to but mosaic flower vases.
Marble vases are intricately designed or carved out on marble which are very much in demand these days. These marble vases exhibit the artistic expertise and designing capabilities of the craftsmen and artisans. These marble flower vases are available in various shapes, design and styles but are known for their minute detailing. These vases add an appeal to the interiors and are ideal for décor purpose.
Products :

Corporate Gifts,decorative Flowers,exotic Flowers,flower,flower Bases,flower Supplier,• Flower Vases,fruit Flower Arrangement,gift Baskets,

Contact Person :
Ms. Sushma Arora
Company Profile :

Bunny Florist Is The Manufacturers, Supliers, Exporters & Wholesaler Of Corporate Gift & Novelties Items Such As

Email is not available
Click here to view entire Product Range
Products :

Marble Handicrafts, Statues, Flower Vases, Decorative Items Etc.

Contact Person :
Mr. Vivek Totla / Gaurav Totla
Company Profile :

Trident Handicrafts Holds Expertise In Manufacturing, Supplying And Exporting An Exemplary Range Of Marble And Stone Based Handicraft Items. Since Its Incorporation In The Year 2002, Our Organization Has Gained Expertise In Offering An Enticing Collection Of Marble Artifacts, Pots, Decorative Items, Vases, Gift Items And Paintings. In Addition, We Also Offer Marble Statues, Handicrafts, Animals & Bird Figures, Inlays, Fountains And Furniture.

Send :
On-Line Trade Inquiry
Products :

Tea Pots, Tableware, Cake Stands, Pillar Candle Holders, Decorative Items, Flower Vases, Household Trays, Lamp Shades,

Contact Person :
Mr. Arbab Shamsi
Company Profile :

Paramount Home Collections A Daughter Concern Of Paramount Trading Corporation, A Company Established Over 50 Years Ago By Late Haji Mohammad Ahsan Shamsi.

Send :
On-Line Trade Inquiry
Products :

Watches, Pen Stand, Diaries, Flower Vases Etc.

Contact Person :
Mr Sunil, Mr Suraj
Company Profile :

Established In The Year 2010, We, "vector Overseas Traders", Are Illustrious Manufacturers, Suppliers And Exporters Of A Diversified Product Range, Which Includes

Send :
On-Line Trade Inquiry
Products :

Lighting Flowers, Importing Of Lamps From Bali, Dry Flowers, Vases Etc

Contact Person :
Mr Aman Singh/ Mrs Reena Singh
Company Profile :

Mfrs Of

Send :
On-Line Trade Inquiry
Products :

Stainless Steel Utensils, Bar Ware, Kitchen Ware, Pet Ware, Flower Vases, Stainless Steel Flower Vases, Stainless Steel Cutlery, Stainless Steel Cutlery Set And Handicrafts, Leather Bags And Accessories Etc.

Contact Person :
Mr. Devendra Tyagi
Company Profile :

Incepted In The Year 2008, We Bhagirathi Exports Pvt. Ltd Are One Of The Leading Names Engaged In Manufacturing And Exporting Of

Send :
On-Line Trade Inquiry
Click here to view entire Product Range
Products :

Flower Vases, California Bowls And Plates,

Contact Person :
Mr. Atul Bajaj / Mr. Yatin Sikand
Company Profile :

We Are The Manufacturers And Suppliers Of This Fantabulous Crock Range Which Comes In An Amazing Variety Of Aluminum And Brass Enamelware. The Product Range Comes In A Variety Of Shapes, Color Schemes And Sizes And Can Be Customized As Per The Clients' Requirement.

Send :
On-Line Trade Inquiry
Products :

Candle Stand, Flower Vases, Wall Hangings, Photo Frames, Ashtrays, Cutlery

Contact Person :
M.shakir & Zafar Hussain
Company Profile :

Manufacturer And Exporter Of Corporate Gifts Such As Candle Stand, Flower Vases Etc.

Send :
On-Line Trade Inquiry
Products :

Brass Flower Vases, Hanging Candle Holder, Decorative Candle Holders, Brass Wall Lighting Fixtures, Brass Napkin Rings, Brass Embossed Wall Lighting Fixtures, Candle Pillar, Candle Wall Sconces, Iron Planter, Aluminum Mirror, Aluminum Tray, Bathroom Corner Rack, Hanging Soap Dish, Iron Planter, Conical & Bone Jewellery, Votive Candle And Glass Candle Stand.

Contact Person :
Mr. Mohammad Zubair
Company Profile :

We At Ahmad Brass International, Take Immense Pleasure In Introducing Ourselves As One Of The Trusted Manufacturers And Exporters Of A Wide Range Of Ethnic Metal Handicraft Items.

Send :
On-Line Trade Inquiry
Click here to view entire Product Range
Products :

Desktop Accessories, Glass Dining Accessories, Glass Flower Vases,glass Hurricanes, Glass Jars, Ice Buckets Etc.

Contact Person :
Mr. J. Noor Muhammad
Company Profile :

Offering A Highly Reliable And Efficient Range Of Services Like Multi Products, Manufacturers' Representative & Liaison Services.

Email is not available
| Corporate Gifts Home | Corporate Gifts Directory | Corporate Gifts Products |
flower vases, flower pots, decorative vases, glass vases, porcelain vase, corporate gifts, manufacturers, suppliers, exporters, indian

--------------------------------------------------------------------------------
Website Development and Search Engine Optimization by : Aditya Infotech
Copyright © 2013 Netlink Solutions (India) Ltd. All rights reserved, including the right to reproduce the contents of this website in whole or in part without prior written permission