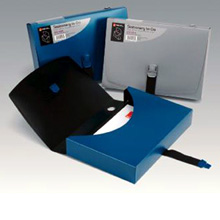 An arranged office table having laptop or desktop gives an attractive professional feel. These are the items used in the office computer over, diaries, folders, pens-markers in pen stand, some blank white papers beneath the weight holder, on wall a planner and a calendar reminds of some corporate office or organization and whole of these materials or items are known as office stationery. Office stationery is available easily at every organization. As of now though the time has moved on with the new and advanced technologies that have surely enhanced the working process of offices, like computers and laptops, printers, scanners etc are the most noticeable object that are seen in the office which have replaced the paper work, but still these office stationery have their own values and importance, they are still used in the offices and also its quality, innovative and creative uses these are the features which makes the employees of the organization keep the office stationery. These office stationeries create a work culture and help out employees to get done their work more conveniently and comfortably with a friendly environment.
The other aspect of the office stationery which makes a mark are the wall calendars and table calendars which are widely used for the proper scheduling and managing the things effectively and efficiently. Wall planners are used as the reminders for the employees about their target, they are also used for making noticed the client appointments, schedule. Business diaries and note books can be the better option to mark appointments, targets to be achieved. These are the items which do gain the importance and are the necessity for the offices in true sense.
All these office stationeries are there to make the load of work easier, effective and convenient. These office stationeries do not cost much.
For writing on any paper, the individual may use pens or pencils as it is the requirement and has been in the long run since ages. Alternately, something may be typed on the paper, or printed on it as because of the technically advanced world. Today these items pens, and pencils qualify as stationery items. Looking at the technical aspect today paper is the effective office item on which the entire organization runs as these papers are used for printing, in scanning and also for the typewriting machines. Even though most of communication is through computers these days, pens and pencils are still used in offices and would last till the end as these two were in use from ancient years. Erasers are also essential if pencils are to be used as they both compliment each other. Likewise, a pencil sharpener may also be needed the combination of eraser, pencils and sharpener termed as trio goes well together. Some offices use white inks or fluids to erase some typed or printed matter many a times, which is called as whitener also an essential product for office use.
Featured products of Office Stationery
Cabinet hanging files for all your filing requirements are offered by s.K.Stationery, a company known for supplying quality stationery products. These can also be customized as per your size and requirement. Apart from these the company is also into ...

Company Name : S.K.Stationery Click here to view entire product range
Cheques are important documents, which one can`t afford to lose. S.K.Sattionery offers cheque book holders to keep al your cheques safely. These are made of size which fits all cheques which comes with clip which holds the plastic folders in which th ...

Company Name : S.K.Stationery Click here to view entire product range
Products :

Office Stationery, Files & Folders, School Stationery, Pocket Ring Binder, Cabinet Hanging File, Colour Index, Computer Data Binder, Cheque Book Holder, Clear Strip Folder, Business Card Holders.

Company Profile :

A Company Manufacturing And Supplying Useful Stationery Products Like Pocket Ring Binder, Cabinet Hanging File, Colour Index, Computer Data Binder, Cheque Book Holder, Clear Strip Folder, Business Card Holder And Many Other Products.

Send :
On-Line Trade Inquiry
Click here to view entire Product Range
Products :

Sticky Notes , Files ,folders, Office Accessories , Office Stationery Sets , Desk Organizers Etc.

Contact Person :
Sagar Tejura
Company Profile :

Ayrton Agencies Pvt Ltd Manufacturers, Supliers, Exporters & Wholesaler Of School, Home And Office Stationery

Send :
On-Line Trade Inquiry
Click here to view entire Product Range
Products :

Office Stationery Like Clear Books, Ring Binders, Clip Files, Clear Holders, Polypropylene Clear Files, Envelope Bags, Card Holders, Pen Cases, Zipper Bags, Conference Bags, Expanding Files And Even Shopping Bags, Packaging Boxes & Photo Album

Contact Person :
Mr. Rajesh K. Satra
Company Profile :

Manufacturers Of A Wide Range Of Stationery Products Like P.p Files, Folders, Display Books, Conference Folders, Portfolios Bags, Etc.

Send :
On-Line Trade Inquiry
Click here to view entire Product Range
Products :

School, Home And Office Stationery, Long Books,exercise Books, Writing Pads, Pocket Note Pads, Refill Pads, Wiro Pads, Conference Pads, Drawing Books, Drawing Sheets,notebooks, Craft Books, Essay Note Books, Scrap Books And Many More.

Contact Person :
Mr. Ashok Jain
Company Profile :

Manufacturers, Supliers, Exporters & Wholesaler Of School, Home And Office Stationery Like Long Books,exercise Books, Writing Pads, Pocket Note Pad, Refil Pads, Wiro Pads, Conference Pads, Drwaing Books, Drawaing Sheets,notebooks, Craft Books, Essay Note Books, Scrap Books And Many More.

Send :
On-Line Trade Inquiry
Click here to view entire Product Range
Products :

Diaries, Table Calendars, Business Organisers, Lever Arch Files, P.p File And Folders , Gift Articles, Office Stationery

Contact Person :
Mr. Manik Ray
Company Profile :

The Company Manufacturing And Importing The Variety Of Stationery Products.

Send :
On-Line Trade Inquiry
Click here to view entire Product Range
Products :

Exclusive Office & School Stationery Like Files, Folders And Many More Products.

Contact Person :
Mr. Parekh
Company Profile :

Parth Enterprises Supplies The World Class Stationery Products Made From The Best Raw Materials And Are Designed To Suit Every One, Companies, Individuals And Students.

Send :
On-Line Trade Inquiry
Click here to view entire Product Range
Products :

Office And School Stationery Products Like Metal File Clips, Cd Case, Name Card Holders, Expanding Files, Carrying Cases, Portfolio Bags, Hotel Menu Folders, Visiting Card Albums, P.p. Files & Folders, Display Books, Photo Albums, Strip Files, Conference Folders, Kids Loved Files, Name Card Holders, Name Plates And Display Stands.

Contact Person :
Mr. Dhirendra
Company Profile :

A Company Manufacturing And Supplying A Variety Of Office And School Stationery Products Like Metal File Clips, Cd Case, Name Card Holders, Expanding Files, Carrying Cases, Portfolio Bags, Hotel Menu Folders, Visiting Card Albums, P.p. Files & Folders, Display Books, Photo Albums, Strip Files, Conference Folders, Kids Loved Files, Name Card Holders, Name Plates And Display Stands.

Send :
On-Line Trade Inquiry
Click here to view entire Product Range
Products :

Office Stationery And Filling System Like Files And Folders, Expansion Cases, Display Books, , Pp Sheet Protectors, Clip Files, Art Portfolios, Menu Holders, Paper Fasteners, Poly Envelopes, Box Files, Business Card Holders, Moulded Ring Binders Etc.

Company Profile :

A Company Manufacturing A Variety Of Stationery Products Like Files And Folders, Expansion Cases, Display Books, , Pp Sheet Protectors, Clip Files, Art Portfolios, Menu Holders, Paper Fasteners, Poly Envelopes, Box Files, Business Card Holders, Moulded Ring Binders And Many More Products.

Send :
On-Line Trade Inquiry
Click here to view entire Product Range
Products :

Office Printing And Stationery, Screen Printing, Stickers, Labels,

Contact Person :
Mr. Chandrakant N. Lohar
Company Profile :

We, Om Screens, Situated In Pune, Manufacture And Export A Technically Advanced Range Of Offset Printing And Stationery Products. Our Gamut Has Attributes Such As Durability, Strength And Fine Finish. Incorporated In The Year 1992, Under The Able Guidance Of Our Mentors And Guide, Our Company Has Reached Enviable Heights. We Have Been Able To Carve A Niche For Ourselves In This Industry. We Are Also Engaged In Offering Quality Range Of Printing Services.

Send :
On-Line Trade Inquiry
Products :

Printer, Monitor, Webcam, Mouse, Ups, Office Stationery Kit, Clips

Contact Person :
Mr. Amit Chauhan
Company Profile :

We, `vaishnavi Enterprises` Are One Of The Leading Organizations Engaged In Trading And Supplying Office Stationery Items And Computer Accessories. We Procure High Quality Equipment And Machines From Various Vendors And Supply These At Competitive Prices As Per Our Clients` Requirements. Our Vision Is To Bring Standard Quality Products At Most Reasonable Prices Along With Time Bound Services For The Clients. The Products Supplied By Us Are Highly Durable, Superior In Performance, Reliable, Light In Weight And Easy To Maintain.

Send :
On-Line Trade Inquiry