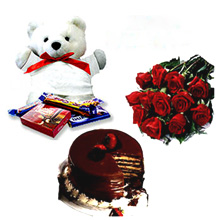 Gifts are considered as primary medium to express feelings to the other person to either acknowledge or appreciate the other person. Gifts are considered as a medium to connect the bond of feeling within the people for may reasons, purpose or occasions such as birthdays, weddings, parties, valentine's day, christmas, diwali etc where people from the entire world come together celebrate the moment of happiness and joy and also spread the message across the world. In this manner gifts become the reliable source of happiness. Occasion and festivals are celebrated world wide and also gifts are given and distributed worldwide so from this concept the term has arrived occasional gifts which pertain to the particular festival, season, purpose or occasion.
Birthdays are celebrated now and then and thus are gifts. Birthdays are meant for small children who enjoy a lot and wish to have lots and lots of gifts as a surprise. There are varieties of gift items for the purpose of birthdays and these are games, chocolates, soft toys, jewelry sets etc which attracts most of the kids as well as grown up people. Birthdays also includes decorative items such as party poppers, balloons which can be used a part of the gift but not as a whole gift. The other occasion is wedding where people present tea sets, kitchen ware items, ice cream bowls, and show pieces for the couple which would then be utilized. These are the gifts which serve for wedding purpose apart from these gift items the others are jewelry, bed sheets and sets which is regarded as necessity for such special occasion.
On the occasion like valentine's day there's only one thing which is a perfect gift to be presented and that is flowers, cakes, chocolates, rings, jewelry sets which is considered to be seasonal as valentine's day is considered as season of love the color chosen would be red as it signifies love. Occasions like diwali and christmas also have unique gift items like dry fruits placed plates, crockery sets, chocolates and many more.