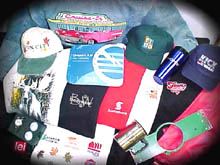 Promotional clothing - a good stuff to bank upon.
Sole aim of any company or corporation is to get good business with the help of promotional advertising. Close-to-heart promotional garments includes t-shirts, caps, pants, jackets, shirts and many works excellently having a close affinity with the daily usage of the human being. This specially designed and stylised promotional items is ideal for advertising the company name and fame. Create a good impression of the company name with its daily tryst with the public. Moneymaking clothing for some of the celebrities sports persons and advertising personalities.
a fine corporate promotional apparel to attract the attention and impresses upon the people. Proves successful as a corporate gift that is given to the company associates and clients for work appreciation or successful business promotion.
Featured products of Promotional Clothing
Knitkraft offers jersey t-shirts which can be a 100pc nylon knit, 100 pc polyester or even 100 pc cotton knit with no button -up front for youth and adult. The jersey t-shirts are casual and formal wears but one can wear it any time. These jer ...

Company Name : KNITKRAFT Click here to view entire product range
Knitkraft offers simple cotton outerwear men shirts that are for casual wear. The outerwear shirts appear in many colours and available in short, medium and long sizes at economic prices. The outerwear shirt is suitable for daily office goers, be it ...

Company Name : KNITKRAFT Click here to view entire product range
A wide variety of promotional textiles products like promotional caps and t-shirts. These are customised as per the client`s requirement and works as an effective commercial tool for promoting your products. They are available in different colous and ...

Company Name : Divine Kreations Click here to view entire product range
Products :

Promotional Flags, Rangoli Colors, Election Campaigning Items, Tattoo Stickers, Election Caps, Rangoli Stencils, Promotional Clothing, Decorative Rangoli Stickers, Election Batches, Awards Trophies, Election Cut Outs, Display Hoardings & Banners

Contact Person :
Mr. Rajesh/vishnu/lokes Agarwa
Company Profile :

We Are The Leading Manufacturer & Exporter Of Promotional Items, Which Are Widely Used For By Corporate Houses & Political Parties For Propagation & Campaigning.our Products Are Designed & Manufactured As Per Clients' Specification.

Send :
On-Line Trade Inquiry
Click here to view entire Product Range
Products :

Products-giveaways-merchandise, Promotional Gifts, Custom Corporate Clothing Apparel – Uniform , Business Gifts, Advertising Specialties, Corporate Gifts, Holiday Season Gifts, Christmas Gift Ideas, Gift Ideas, Baby Gifts, Wholesaler Gifts & Imprinted Logo Promotional Items...

Contact Person :
Mr. Rajdeep Singh
Company Profile :

Manufacturer Exporter Of Promotional Products Having Location In India & China For Your Wholesale Promotional Needs And Have A Huge Range Of Discount Promotional Products-giveaways-merchandise, Promotional Gifts, Custom Corporate Clothing Apparel – Uniform , Business Gifts, Advertising Specialties, Corporate Gifts, Holiday Season Gifts, Christmas Gift Ideas, Gift Ideas, Baby Gifts, Wholesaler Gifts & Imprinted Logo Promotional Items...

Email is not available